Maybe it's her. The woman quietly reading the new Ty Alexander book on the train. Or maybe it's that coworker who eats by herself at lunch. Maybe it's the really chill mom you met at Target last week.
Or maybe, it's you. And you're not alone.
In the United States, around 600,000 mothers endure pregnancy loss through miscarriage each year. Another 26,000 mothers endure pregnancy loss through stillbirth. And while so many women are struggling with the feelings of pain, grief, and depression after losing a child, few ever share what they're going through. "It just happens. And then you bury those feelings of hurt deep inside with the glimmer of hope you hold on to by a thread," says blogger MJ Jacks. "It just happens and life keeps moving with or without you."
The loss of a child can be a hard and confusing, with friends and family unsure of how to offer comfort. "…while friends and family mean well, they often say very hurtful things while trying to comfort you. It's a very emotional and confusing time where simple phrases such as, "Everything happens for a reason", "This wasn't your time" or even "You're young enough, you can try again" do more harm than good to a women who has just lost a baby," says Jhéanell Adams, Founder of eco-luxury skincare company Jolie Bloom, and licensed grief counselor. "It's one of those things were people just aren't sure what to say or how to react, which leads to them saying the wrong thing or not saying anything at all, which makes Babyloss Moms feel a deep sense of loneliness."
Healing is a journey, not a destination. - @jheanelladams #babyloss
Click To Tweet
Many women choose to just keep their stories inside. "It's such a "hush hush" thing because women often feel ashamed after expecting a loss, which results in them suffering in silence," Jhéanell says.
In 2011, at a little less than 24 weeks into her pregnancy, Jhéanell went into preterm labor and delivered a little girl she named Jolie. After an almost 4 hour fight, Jolie passed away.
As she grieved over the loss her daughter, Jhéanell shared her pain openly on her blog–and found sisterhood.
"I've been blogging about my Babyloss journey since the beginning and as women started to see me progress, they began contacting me via my blog comments, social media and email for advice after their experiencing their own loss," she says. "For years now I've been a lending ear, a shoulder to lean on and providing tools to help everyone who reaches out to me."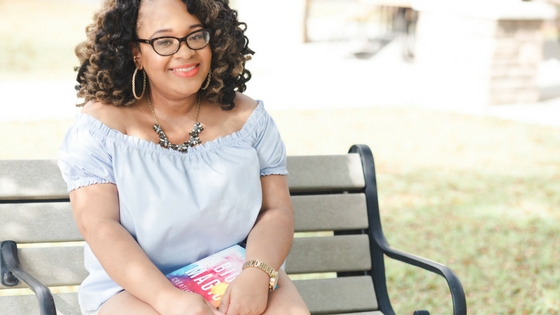 But in 2015, Jhéanell hit a low point. "I had a breakdown during my lunch break at work. I was crying and asking God to put me on a more purposeful path. As clear as day, I heard a voice tell me, "Be a Life Coach." She invested in a program, but didn't feel like she was on the right path. "…the life coach thing just didn't resonate with me. My intuition kept telling me to do something that helped Babyloss moms, but I kept trying to quiet that voice because I just didn't know how to put it all together."
After working with a coach to figure out her skill set and talents, she discovered her purpose. "She suggested that I become a Grief Coach…a light bulb went off as I realized that it's a segment of Life Coaching. It took almost a year of preparation, but the prayers and visions finally started to make sense."
Jhéanell became a licensed grief counselor, and has been a "personal cheerleader" for other babyloss moms, helping them to progress through their pain—something she had been doing on her blog for years. "After doing a lot of inner work, I realized that part of my purpose was to use the pain I went through to help other families who have experienced the loss of a pregnancy or infant loss as well," she says.
On her site at Jheanell.com, Jhéanell coaches moms towards progress and encourages them to share their experience. "Between the judgment from others, depression, and negative self talk, it feels easier to hide and not talk about it just so that you don't have to explain things and answer questions. However, there is so much power in speaking up and sharing your story, as well as seeking out professionals and resources that can empower you."
Although she still grieves for her daughter, Jolie's passing has allowed her to find herself and help other moms.
"I feel that if I can provide a service or product to help Babyloss Moms to move forward with their journey to healing, then what happened to me was not in vain. I'd like to think that this was all for a higher purpose, that is what keeps me going and helps me to not sink back into depression."
If you or a parent you know is grieving the loss of a child, reach out to Jhéanell at http://www.jheanell.com/. More support is offered on her Babyloss podcast and in her Facebook group. Find her inspirational images and affirmations from her motivational cards on Instagram.

Tiffani is the wife and mom behind MyMommyVents, co-creator of The Mommy Conference, and co-founder of the digital collective Sisterhued. Her writing and parenting tips have been seen on The Washington Post, Mommy Noire, Yahoo Parenting, and Fit Pregnancy.