Risa Klein is a superhero.
For over 25 years, she's used a blend of tough love and holistic care to "help women have joy." She's rescued expecting mothers from gestational diabetes, swooped in to save working women from stress–"I've written notes to jobs," and saved women with life threatening conditions from becoming statistics.
Risa Klein is a midwife. Some would call her a miracle worker.
The former TV exec went from producing media to producing babies. "My birth transported me to a new world," she says. "I took Bradley classes, and my instructor said I should become an instructor." Because she didn't feel a sense of love or compassion from the doctor who delivered her daughter, Risa knew that she wanted to help women ease their fears about childbirth.
Risa Klein became a life saver.
Her work as a holistic birth counselor was fulfilling, until she met a pregnant teen at a halfway house. "She asked me to be her midwife. She told me, 'I'm so scared.' She took my hand and put it on her heart and said, 'Please help me."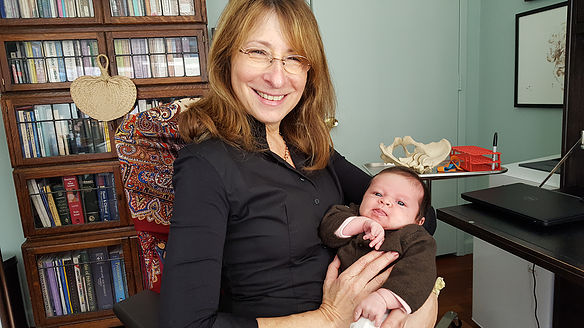 Today, Risa uses her birth experiences and technical training to help women transition into motherhood. Her method of personalized care makes pregnancy a more connected and nurturing journey. "Pregnancy isn't an illness. Women's bodies are made for birth, and birth is natural." The women who fly in to her East 72nd Street office in New York city just to meet with her know that her caring approach can help to "…reframe her experience. Trauma, C-sections, abuse, fear…I get to know the woman and help her move through the challenges. I take the whole woman into account."
'When a woman is in pain, we honor it. We need to tell her she's awesome.'- Risa Klein, CNM
Click To Tweet
While her focus is on holistic care, she's trained to know when a medical collaboration with an M.D. is necessary. "I'm trained in normality, not medicine," she says. Still, she knows how to control the energy in the birthing room, and has been known to send family members for coffee if they're stressing a laboring woman out. "When a woman is in pain, we honor it. We say, 'I'm in awe of you, you're working hard.' We need to tell her she's awesome." Risa calls it the language of birth. When I ask her to describe it, she says it's awesome. Monumental. Out of this world.
During labor, she tells women to open their eyes and push, so that they can receive their babies. The most rewarding part of her work is "watching women in ecstasy and love," and she feels "blessed to see women falling in love with their baby."
Risa Klein is a super hero. She helps women to recognize what they are capable of, in a time when they're scared of the road ahead. Will they be good mothers? She eases their fear.
"Birth is a transition. It's about growth. Motherhood comes when you're ready, and  you're perfectly designed to do it."

Tiffani is the wife and mom behind MyMommyVents, co-creator of The Mommy Conference, and co-founder of the digital collective Sisterhued. Her writing and parenting tips have been seen on The Washington Post, Mommy Noire, Yahoo Parenting, and Fit Pregnancy.