Have you ever encountered someone absolutely radiant? Like they had some kind of inner light? Or some sort of luminous moisturizer from a heavenly Sephora? Take that and multiply it by like, 100, and you'll get an idea of what Latham Thomas is like.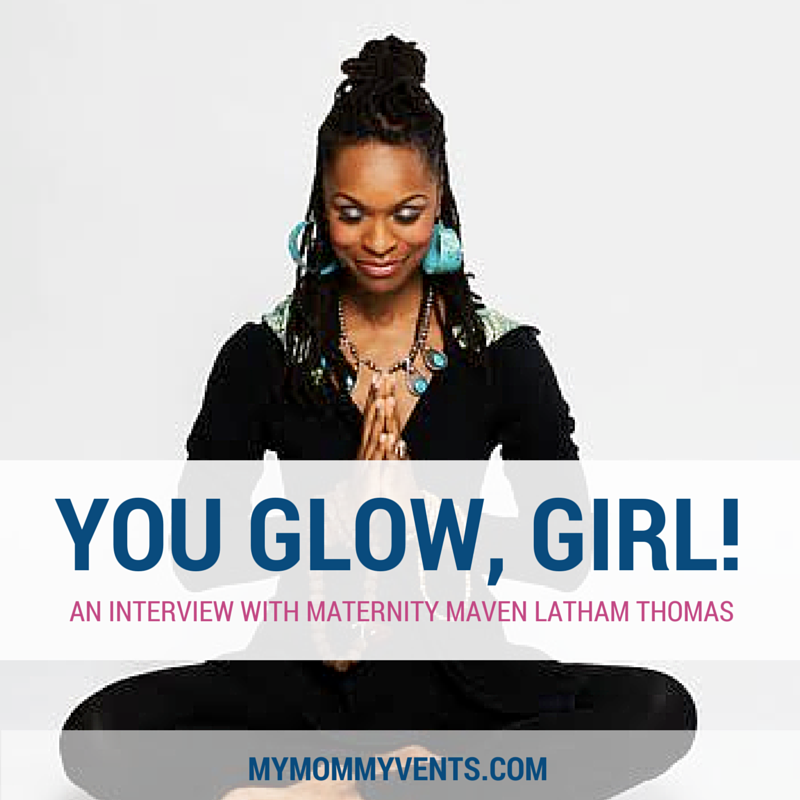 As the founder of Mama Glow, Latham shares her wisdom and luminosity with new and expecting moms. Through her doula, nutrition, and yoga services, Latham helps to usher women confidently into motherhood. The author and mother of one recently partnered with P&G's Pampers and My Black Is Beautiful to provide support, information and motivation to moms.
I've followed Latham's career since reading about her on Randi's site, Beyond Mom. Referred to as "Manhattan's Rock Star Doula," the California native has worked with celeb moms like Tamera Mowry-Housely, Rebecca Minkoff, and more, but it's her holistic approach and brilliant energy that really inspire me. You know how Wendy Williams talks about having a friend in your head? Latham is that friend. I had the pleasure of interviewing her, and it was everything I thought it would be and more.  We discussed black history month and the legacy of black midwives, the importance of a  supportive community, and how moms can embrace self care. Read on for my interview with Latham.
[line]
Latham's work is inspired by the original women who help to bring life into the world, midwives. 
There's a legacy of black midwives that's not being told. (Learn more about them on Mama Glow) There was a coalition in the South of women who were born slaves. They gave birth to their masters' babies, delivered babies and then were made to serve as wet nurses. These women were the precursor to obstetrics. The birth process has changed a lot. Up until a hundred years ago, it was all women. We have to remember the links and ties to the past to integrate when it makes sense to. We have ancestral wisdom and are riding on the shoulders of the black midwives who paved the way. They look down and cheer us on.
What led you to begin your work as a maternity maven?
The birth of my son. The Services I provide are what I wanted during my pregnancy and birth. I had certain skills and interests before, but I knew yoga needed to be revived for today's active women. I wanted to create a technique that met busy women's needs, a results oriented class that also prepared them for labor and motherhood.
My lifestyle with doula work came out of my birth experience. I felt empowered and wanted other women to feel that. Birth is its own magic. You can't control it, but you can control how you respond to the rhythm of the journey and dance. My work makes me feel close and bonded to these women and become family to them. Thank kind of intimacy is soul filling.
During pregnancy, it feels like everyone wants to take care of you–and then after you give birth, everyone just wants to know how the baby's doing. Why is it important for moms to care for themselves, even when it seems like no one else does?
As moms, we need to focus on ourselves so we can care for others. Know when you need a moment. Set your phone to give you a reminder to relax, and it will become second nature. Make time to honor yourself daily.
Sleep is important for optimal well being and function. When people lack rest, they don't make the best decisions and their judgement is impeded. Rest helps us to make better, more rational choices. Your mood changes with sleep and your hormones balance out.
If you're not getting enough sleep, which can be hard with a new baby, raising your legs at a 45 degree angle for 20 minutes allows blood to cycle from legs to heart. Its like a two hour nap! While your baby naps, do the leg raises.(Latham let me know that Viparita Karani, or "legs up the wall," can be done during pregnancy up to 36 weeks.) 
How do we not feel guilty or selfish when caring for ourselves? 
It's hard. As women, we have a legacy of putting to everyone else's needs first. Get out of that mindset. Embrace self care in order to  practice and create boundaries. Practice saying no learn how to say no. Find small things to say no to. And no is a complete sentence! You don't have to explain. Saying no to them is saying yes to yourself. This sets stage to eliminate guilt. It's in our bones to feel the guilt as women–but the biggest thing is not to make yourself feel bad anything that benefits your family.
Latham and I also discussed the importance of having a strong community. 
Women should have a support system before babies born, a "sister circle" who can examples and inspiration for your passage. Post partum, we need a friend. After birth, there's less focus and attention on mom, so having that group before ensures you have what you need after, to vent and lean upon.
In your book, Mama Glow, you talk about the importance of a support system of friends and loved ones. If a woman is having trouble finding her support network, how can she take care of herself? 
Social media is a powerful tool to use to build and bridge community.  My Black is Beautiful is a space for moms to participate in dialogue. Instagram is another great outlet for positivity. Through social media, you can find community and like minded people, watch your mentors in real time, and create relationships at the scroll of a touch screen. It's so easy!
With social media, we know that we aren't alone–someone else going through the exact same thing. Pampers and My Black Is Beautiful anchors moms and gives them a voice These brands are working together for the community to create a  thriving and uplifting, empowering and inspiring space for moms.
[line]
I'm so thankful to Pampers and My Black is Beautiful for giving me the opportunity to speak with Latham! Join the P&G family and learn more about My Black is Beautiful and Pampers partnership at P&G Everyday.

Tiffani is the wife and mom behind MyMommyVents, co-creator of The Mommy Conference, and co-founder of the digital collective Sisterhued. Her writing and parenting tips have been seen on The Washington Post, Mommy Noire, Yahoo Parenting, and Fit Pregnancy.