MyMommyVents is kicking off the month of October by celebrating "PhenomeMoms." Each week, we'll profile a phenomenal mom who has faced tough challenges and managed to come out stronger. Every day, we see celebrity moms featured on magazine covers and websites for their fashion, weight loss, or personal struggles–but we'd like to celebrate the every day moms who are truly making a difference. We're recognizing the phenomenal moms who sacrifice to give their children what they need, the moms who go above and beyond to do the best for their kids. This month, we're honoring YOU.
Today's PhenomeMOM is Brooke Lugo-Smith. A Brooklyn native, Brooke's been singing since she was a kid. She attended "The Fame School," and went on to write and perform on songs for artists like FannyPack (TommyBoy Records), Farrah Franklin (formerly of Destiny's Child) and Treach (formerly of Naughty By Nature / MBK Ent.). Brooke's vocals and writing have been featured in commercials for Nintendo, Old Navy, Kia Motors, in movies, and on television. Brooke was also named Miss New York Plus America and was the 3rd runner up in the 2006 National Miss Plus America Pageant. She's even been on MTV's "Boiling Points," and the Emmy Award winning Showtime series "The Big C." She's starred in gospel stage plays, a musical, and a short film–but now she's sharing the spotlight with her husband, Colin in a much different way. Read on for this phenomenal mom (and dad's)'s story.
[line]
October is Pregnancy and Infant Loss Awareness month. Today, October 15th, is Pregnancy and Infant Loss Awareness Day. At 7pm, surviving families light a candle in remembrance of the children who have been lost. Brooke and her family are taking it one step further–literally.
Brooke is one of the nearly 30,000 mothers who lost an infant this year. Many families choose to grieve in silence, but Brooke and Colin chose to turn their pain into action by creating Knot My Baby, an organization dedicated to providing pregnancy and infant loss awareness and recovery resources. Tonight, they'll be walking across the Brooklyn Bridge for the Baby Steps Walk, the first annual walk to support pregnancy and infant loss in New York City.
Brooke's pregnancy had progressed as normal, but at almost 40 weeks, she felt that something just wasn't right.
"During our last month of pregnancy, we noticed decreased fetal movement and rushed to the Labor and Delivery unit on three different occasions. The first two times we were sent home with comments like, "your children will make liars out of you," and your baby is "a little lazy." This was after basic testing of her heart rate and movement, which lasted no longer than forty minutes at each of the two visits."
But Brooke trusted her instincts are returned to the hospital a third time. It was then that she and Colin were told that doctor's couldn't find a heartbeat for their precious daughter.
"I labored for the next two days in denial of our daughter's death because I knew I served a God who could've reversed  this tragedy. However, He decided our daughter's life would serve a different purpose. Our daughter, Kennedy Grey, was full term and born on May 19th, 2014, weighing 7lbs, 6oz, and passed away due to an undetected nuchal cord (commonly known as an umbilical cord around the neck) AND a true knot (which is a separate knot in the umbilical cord)." 
Unfortunately, no laws currently exist to monitor umbilical cords, as complications are thought to be spontaneous and unpreventable. New technology such as the color Doppler monitor which color codes oxygen and blood flow on sonograms proves otherwise. Doppler technology is already being used to monitor and study blood flow to the heart. 
Broke and Colin turned their tragedy into an opportunity to help other families. Knot My Baby is working to pass the Kennedy Grey Stillbirth Research and Dignity Act, which will improve how stillbirth records are reported and the way surviving families are treated. More accurate numbers and research will lead to the organization's goal of improving how healthcare professionals monitor the length and placement of umbilical cords throughout pregnancy.
I was so inspired by Brooke's strength. She contacted me, wanting to share Kennedy Grey's story with other women–not to scare them, but to encourage pregnant and new mothers to follow their instincts and have healthcare providers follow through on their concerns. Her focus was to spare another family from the pain she and Colin experienced. Please find it in your heart to donate–even as little as a dollar can help. In fact, Knot My Baby has created the Dollar Dare, which asks for a pledge of just $1 a month to assist in raising awareness.
You can help support Brooke and Colin by donating on the Knot My Baby website. Your donation will go towards The US Cuddle Cot Campaign Initiative, to help place in-room cooling units designed to allow families additional time with their stillborn babies in every maternity ward in New York state; The Kennedy Grey Stillbirth Research and Dignity Act; New York City support groups, and the Knot My Baby online resource center.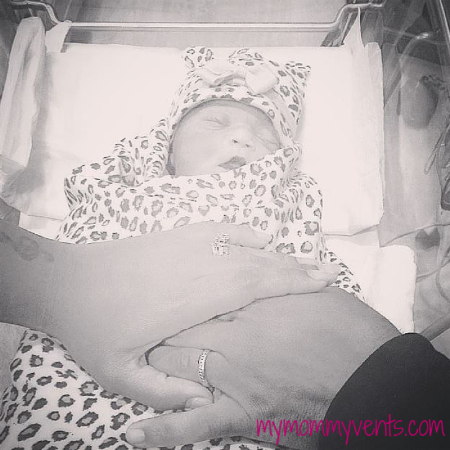 Honor Kennedy Grey and the many other babies who have been lost by making a donation this month.

Tiffani is the wife and mom behind MyMommyVents, co-creator of The Mommy Conference, and co-founder of the digital collective Sisterhued. Her writing and parenting tips have been seen on The Washington Post, Mommy Noire, Yahoo Parenting, and Fit Pregnancy.